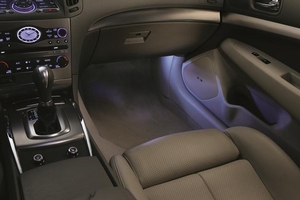 Interior Accent Lighting
Add atmosphere to the interior of your Infiniti with an engaging glow in the footwells as you drive. Creates a warm and engaging ambiance. Enhances the interior?s modern appeal. Includes stainless steel illuminated kick plates. Clear footwell lenses available separately. Fits all without illuminated kick plates.

Click here to view a PDF of the installation instructions.
Step Lamp Lens (two required) Amplifies illumination Part Number 26421-4P000List Price: $5.56 | Your Price $3.67
Add To Cart
Accent Lighting Part Number B64D0-1MA0AList Price: $580.00 | Your Price $566.40
Add To Cart